Conference Highlights
Although our conference is virtual, the Conference Committee is planning an active, engaging event for everyone who participates. Highlights include the following.
Build skills through workshops and other presentations on topics such as Open Educational Resources (OERs), Universal Design for Learning, STEM teaching and learning, e-learning and distance education, emerging technologies, and other areas of interest.
Engage with speakers and other participants in our all-live conference (no recordings of presentations during the conference)
Engage with other participants through social activities (yes—they can happen in a virtual conference) like Speed Networking and Great Minds Think Alike sessions

Speed Networking Sessions are a type of networking session. This will be an opportunity to meet new people AND discover their interests.
Great Minds Think Alike sessions are a type of networking session. Participants choose one of five topics of interest. A facilitator for the group will share a Google Doc so that all participants in the group can collaborate and share ideas. By the end of the session, each group will walk away with a document of new contacts, shared resources, and new ideas for support from the CNIE. The topics include: (a) Graduate Student Group, (b) Instructional Design & Pedagogical Innovation, (c) Open Education Resources (OER), (d) Media and Technology, (e) Work and Life Balance / Time Management

Hear the latest research in teaching and learning, and educational technology from leading researchers across Canada.
Learn about innovative projects from open, digital, and distance learning groups and faculty development groups in higher education, schools, and workplaces through cases study sessions.
Broaden your perspective with engaging keynotes.
Dr. Elizabeth S. Charles, the faculty-researcher at Dowson College and co-Director of SALTISE, who will inspire you with a case study of the innovations that emerge from a professional learning community, SALTISE (Supporting Active Learning & Technological Innovation in Studies of Education), that foregrounds research-practice partnerships.
Lisa White, the inaugural executive director of equity at Concordia University, who will explain historical and contemporary inequities in the academy and how to balance challenges and opportunities when working towards a culture shift.
Dr. David Wiley, the Chief Academic Officer of Luman Learning and President-elect of the Association for Educational Communications and Technology (AECT), who will discuss the persistent challenges and surprising opportunities associated with OER and OEP.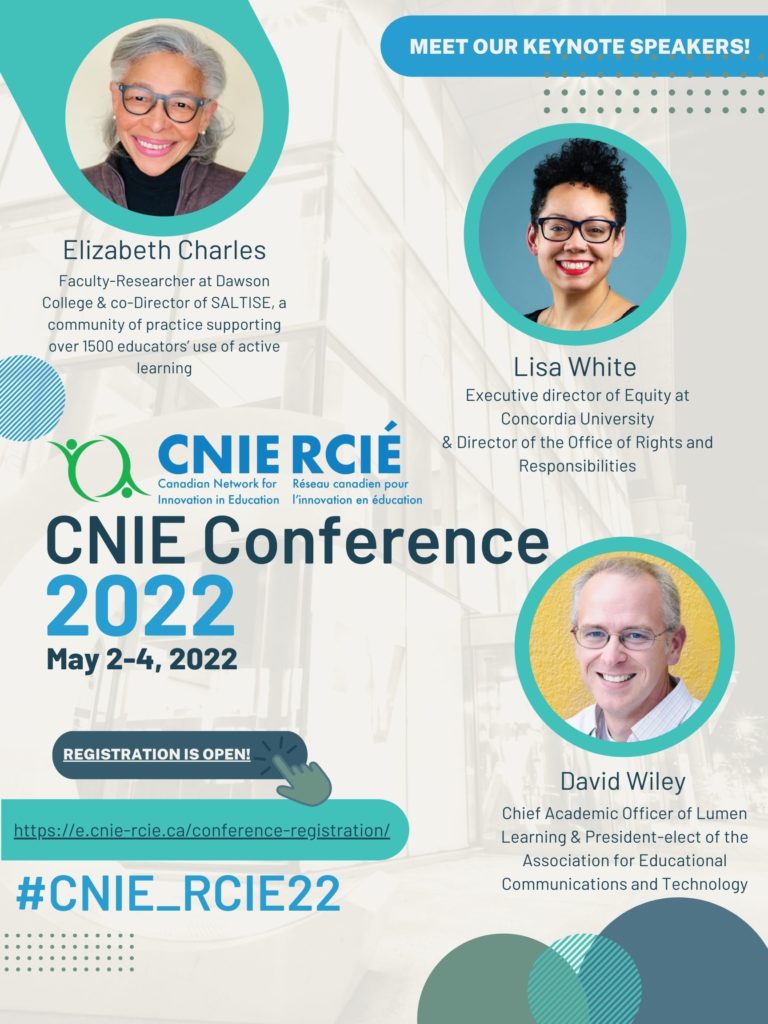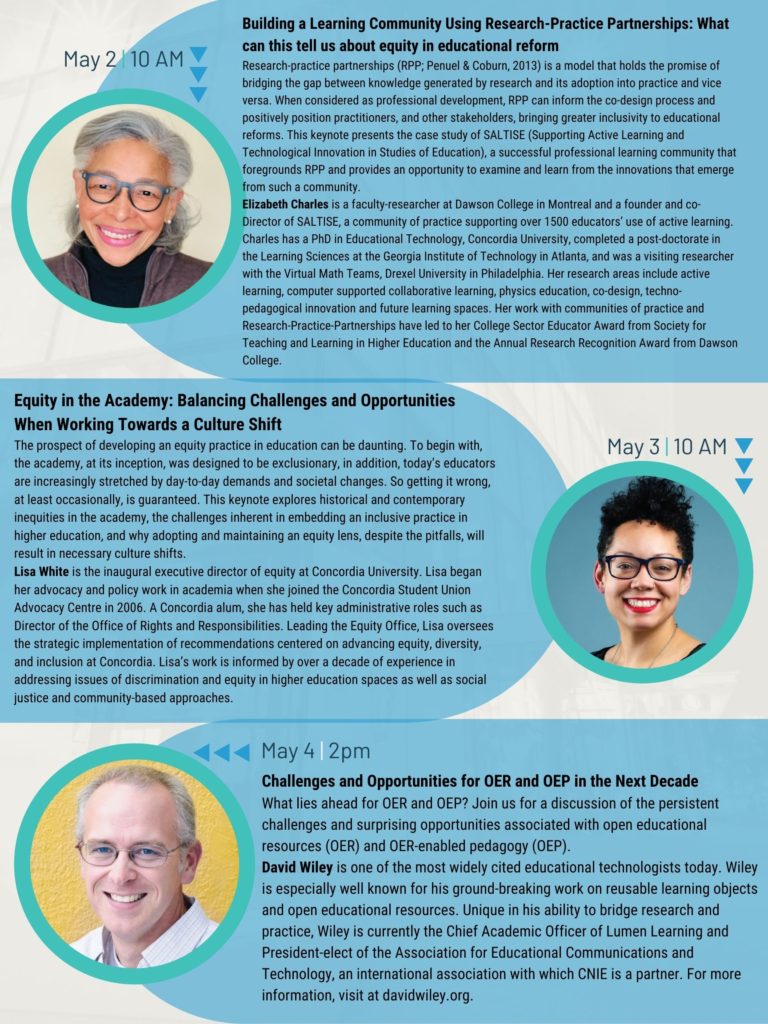 Check out our conference schedule and program for all the reasons to attend this conference.